FRONTAL PROJECTION HB screens: FRONT and BI-FRONT
HOLOGRAPHIC screens > HB rigid screens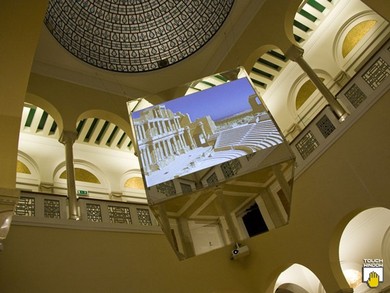 CIMEX IMPORTED EXCLUSIVELY FOR ITALY
high gain RIGID holographic screens HB: High Brightness,

The screen CIMEX HB is a RIGID HOLOGRAPHIIC designed to be used even in bright environments.
CIMEX HB represents the perfect solution for use in retail, in the display windows, in fair events for new product launches, exhibition areas, receptions, concerts, train stations, airports, waiting rooms, supermarkets, shopping commercial, indoor sports stadiums, museums, conference rooms and
wherever it is required a good, clear way
to communicate images and text.


HB FRONT

The HB FRONT is a rigid holographic screen drive studied to be use in situations of FRONT PROJECTION to obtain a high resolution, a visual cone of 180°, a good contrast, a good spread of brightness, uniformity across the screen surface, no effects of hot-spot. HB FRONT is great even in situations of extreme critical angle projection, for example with the projectors with aspheric mirror. This screen is very resistant and therefore it is also used in outdoor environments.

The HB FRONT is a screen is also ideal for home-theatre having a bright gain more than double compared to a normal PVC curtain screen and a spread of light much more homogeneous.




HB BI-FRONT
It was created version BI-FRONT of the rigid holographic HB Front screen

The screen HB BI-FRONT is like to to have a single screen but with both sides projectable with the same features as HB FRONT screen: it can be to be videoprojected simultaneously on both sides by 2 separate projectors, projecting then different messages at the same time, directed to different users who look at the screen from two opposite sides. For example, think of a supermarket with the screen positioned halfway between a lane and the other with different promotional messages relating to the products placed in the two lanes.

The HB BI-FRONT surface thanks to the particular high diffusion material pushed onto the screen, creates images very well defined and visible from every viewable angle!

HB WRITABLE
It was created the WRITABLE version of rigid holographic HB FRONT screen.

The thin and smooth surface of the screen is created by using the reflective material mixed with acrylic material creates the opportunity to have an excellent front projection screen also writable with an ordinary whiteboard marker. Thanks to its surface, you can clean the screen with a simple cloth and a regular detergent for whiteboards. If what is written is left for a long time and hardens, the HB screen can also be cleaned using aggressive detergents being the surface resistant to the chemical agents.