REAR and FRONTAL PROJECTION HB screen TECHNICAL DATA
HOLOGRAPHIC screens > HB rigid screens
HB - REAR PROJECTION MODELS


TECHNICAL DATA

DARK

WHITE

TRANSPARENT

BLACK

Peak gain -in axis-

4

8

3

1

Horizontal half gain value -out of axis-

22°

22°

10°

20°

Vertical half gaoin value -out of axis-

22°

22°

10°

20°

Viewable angle

180°

135°

135°

150°

Transmission

89%

75%

90%

35%

Hot spot

no

no

-

no

Contrast

good

sufficient

sufficent

very good

Sufaces

matt

matt

glossy

glossy

Standard Thichkness

3 mm

3 mm

3 mm

3 mm

Weight kg/mq

3,6 kg/mq

3,6 kg/mq

3,6 kg/mq

3,6 kg/mq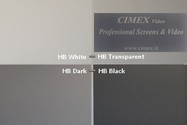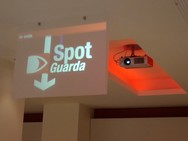 HB - FRONTAL PROJECTION MODELS


THECNICAL DATA

FRONT

BI-FRONT

FRONT WRITABLE

Peak gain -in axis-

3

3

3

Horizontal half gain value -out of axis-

38°

38°

38°

Vertical half gain value -out of axis-

38°

38°

38°

Viewable angle

180°

135°

135°

Transmission

3%

3%

3%

Hot spot

no

no

no

Contrast

good

good

buonoood

Frontal surface

matt

matt

matt

Standard Thicknress

5 mm

5 mm

5 mm

Weight in kg/mq

3,6 kg/mq

3,6 kg/mq

3,6 kg/mq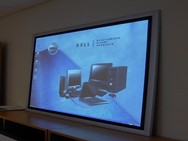 ON REQUEST:
We can produce HB screens with not standard dimentions, with personalised (intermediate) dimentions or ratio or with different forms.

HB AVAILABLE DIMENTIONS

4:3 RATIO

Width [cm]

Height [cm]

40"

80

60

50"

100

75

60"

120

90

75"

152

114

84"

168

126

100"

200

150

120"

240

180

140"

300

200
HB - AVAILABLE DIMENTIONS

16:9 RATIO

Width [cm]

Height [cm]

40"

93

52

50"

111

62

60"

135

76

75"

166

93

84"

186

104

100"

222

124

120"

267

150

135"

300

169
The screen CIMEX HB is a rear projection screen, is very easy to install and use.


CIMEX HB

requires no electrical connection, but only to be installed with the specific suspension systems or placed in a frame or in any particular location you want to make. Then you have only to project on its surface with a

normal projector

without difference side projection.
CIMEX HB

CIMEX HB requires projector with

normal powers in terms of ANSI lumen

, making you thereby avoid expensive machinery.

An example

: a screen CIMEX HB WHITE from 50 "(100x75cm) in a situation of normal light requires a video projector with 1500-1800 ANSI-lumen to get a wonderful result.
CIMEX HB

is a screen made of quartz and artificial crystals, specifically studied and designed to otain

high brightness

in situations more frequent, and offering the possibility to use video-projections e

ven in those situations critical light

by obtaining a satisfactory outcome.

CIMEX HB is able to reach an incredible gain 8

(gain peak measured in axis).
WHAT ARE THE ADVATAGES AND THE BENEFITS CHOOSING HB SCREENS AND WHY HB SCREENS IS THE BEST CHOICE?

MANY ARE THE ADVANTAGES THAT CIMEX HB SCREEN OFFERS COMPARED TO THE OTHER RIGID SCREENS!


While most other screens are produced with extrusion systems (cheaper), the HB screen is produced with a fusion system. This system, unlike extruded production, ensures that the particles of quartz and artificial crystals are commingled with acrylic liquid before it polymerizes and solidifies, allowing themselves to form a thin layer inside the acrylic sheet. This manufacturing process ensures the creation of an extremely thin layer of crystals that capture the images so that the projected images have very high quality and definition and have a very open viewing angle (up to 180 °).




The HB screen greatest quality is demonstrated by
the "test of clarity."



The highest levels of quality is demonstrated by the "test of clarity". Note the picture where a normal screen product with extrusion system – on the left side – is compared with a screen CIMEX HB product course with fusion system – on the right side-.
Both are located on a printed sheet with special characters: the different and superior quality of HB screen appears immediately as HB screen insight much more defined image while the extruded screen is much much obfuscated not to allow to grasp the different graphic print.


Other screen
produced
by an estrusion technique


CIMEX HB screen
produced by our fusion
technique





The "test of clarity" proves the quality of the CIMEX HB screen -right-respect to any other product with the normal screen and less expensive extrusion technique.
The clarity of the HB screen image is self evident!
MORE:


The same production system provides a

long lifetime of the screen

because the particles are inserted before the polymerization in a liquid solution, which is then solidified. There are no laminated parts or applied (as in the case of films) that can be damaged or become detached
The screen

CIMEX HB has no constraints of

videoprojection with fixed angles

as have other screens, this means a

considerable freedom in setting up

even the most critical situations in which is the screen that compensates any shortcomings.
The

viewing angle

assured by the production system is very broad

both horizontally and vertically, up to 180°
The

price/quality ratio is optimal

as it ensures a high quality at a competitive price even with screens producted with the much cheaper extrusion system.
The

CIMEX HB screen

are available in 4 basic versions to satisfy different requirements and needs:

HB WHITE

for high brightness,

HB DARK

for good contrast and applications in most situations,

HB BLACK

for a high-contrast,

HB TRANSPARENT

for transparency effect (see models' page).