Installation
HOLOGRAPHIC screens > HOLOPRO™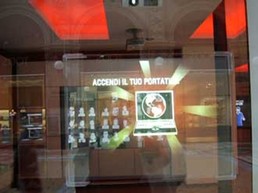 The screen HOLOPRO ™ is offered individually or as part of a complete system.

This system was developed to allow to exploit all the potential of the screen in a optimal, flexible and extremely easy way.
The system consists not only of the HOLOPRO screen, but also of the same fixing systems (permanent or temporary, but always with high tecnology) and the brackets for correct positioning of the video projector (wall or floor).

There are systems Holo-box and Info-Desk for the installation of HOLOPRO screens with diagonalfrom 50 "and 30" lenght , provided by speakers and drive bays computer (touch screen 30 ").


PROJECTION GEOMETRY AND TECHNICAL DATA
In the two pictures you will find the explanation of geometry setup of HOLOPRO and the instructions for proper placement of the projector.




daylight free SUSPENSION SYSTEM:
It 'made with four corner brackets made of acrylic material that allow the screen to be anchored to a system of steel cables with a thickness of 2 mm.
The screen is hung in an "invisible" way and the projected images appear to float in the air .





daylight design STAND FRISTEM:
It 's a system used for universal positioning the screen HOLOPRO that provides many opportunities for the application (including temporary, as in the case of renting or use in booths) thanks to modular construction.
Its futuristic design and its details make the system suitable for contexts of high level Interior Design.




TOTEM:
There are availabel several kinds of exhibitors as totem or tower with special and distinctive design.




PACKAGING system:
The HOLOPRO screens are transported individually by using a special flightcase that guarantees protection. Alternatively you can use wooden pallets to lose.

DIMENSIONI STANDARD DISPONIBILI
schermo HOLOPRO™ e HOLOPRO™ A SPECCHIO:

inch dimension

crystal dimentions [mm]

Foil dimensions [mm]

Weight
[Kg]

projection

20"

420x320

400x300

4

rear (H standard /
frontal (H mirror)

30"

630x480

600x450

8

rear (H standard)/
frontal (Hmirror)

40"

830x630

800x600

17

rear (H standard)/
frontal (H mirror)

50"

1030x780

1000x750

23

rear (H standard)/
frontal (H mirror)

60"

1250x950

1210x910

35

real (H standard)/
frontal (H mirror)

67"

1370x1040

1330x1000

38

real (H standard)/
frontal (H mirror)

84"

1750x1325

1700x1275

70

rear (H standard)/
frontal (H mirror)

100"

2070x1570

2000x1500

84

rear (H standard)/
frontal (H mirror)